Dear friends,
On behalf of the Community Foundation for Ocala/Marion County, I want to thank you for making this year's Give4Marion a success. From the participating nonprofit organizations getting the word out, to the givers who put no limit on their generosity, we truly would not be able to organize such an event without everyone's support.
While we are already hard at work planning next year's Give4Marion, we'll also be shifting our focus these last few months of 2021. As you'll see below, the NonProfit Business Council and Estate Planning Council of Marion County have a number of interesting and creative events planned for the fall/winter season.
In this edition of Living Through Giving, we'll look back at some of the highlights from last quarter and look ahead to some of what the Community Foundation has planned for the end of the year.
It's a great time to get involved with your Community Foundation! Email me to learn how.
Sincerely,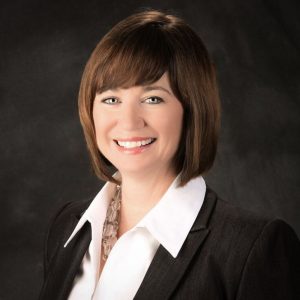 Community Foundation in the News
The Community Foundation held its second annual Give4Marion event, a 24-hour time of giving, from 10 a.m. to 10 a.m. on September 21 and September 22, 2021.
Seventy-five nonprofit organizations serving Marion County participated.
Thanks to the generous contributions made by 2,267 unique donors, these nonprofits raised $532,048!
Of the participating nonprofits, 60 raised at least $1,000.
The top earner was Project Hope of Marion County, which raised $42,713. Rounding out the top 5 were Interfaith Emergency Services ($42,092), Marion County Literacy Council ($29,377), Transitions Life Center ($29,375), and The Pearl Project ($26,140).
Every organization that participated in Give4Marion is worthy of your support.
Click here to learn more about the participating nonprofits.
The NonProfit Business Council's Youth Philanthropy in Action program has now changed it name to the Adam Hanson Youth Philanthropy in Action Program thanks to a generous donation of $150,000 via the Adam Hanson Better Communities Fund.
The YPIA teaches students throughout Marion County about the benefits of charitable giving. Meeting once a week for six weeks, members of the NPBC engage with students about how to turn their passions and interests into difference making within their community.
At the end of the program, students create a group presentation advocating for a real nonprofit they wish to support. Each class votes on which presentation was the best, and the winning organization receives a $500 grant from the Community Foundation.
The Adam Hanson Better Communities Fund was established by Stan and Martha Hanson in memory of their son, Adam, who passed away in a 2006 motorcycle accident. Stan Hanson has served as a guest YPIA philanthropist in schools (including above in 2019 at Belleview Middle School) and chose to continue his son's legacy by helping expand the program to educate more students about giving back.
More than 1,000 students have participated since the YPIA program began in 2012 with $23,500 in grants given to nonprofits through student projects.
Want to learn how you can get involved in YPIA? Contact us.
Please Welcome Our Newest Employee!
The Community Foundation is proud to welcome our newest team member, grant associate Jesse Brock, E.D.!
Jesse was born in Gainesville but raised in Athens, GA and hails by way of Stephenville, Texas. He joins the Community Foundation after working in academia as a Research Fellow at Tarleton State University. Jesse has a bachelor's in history from Young Harris College, a master's degree in history from the University of North Alabama, and a doctorate degree in educational leadership from Tarleton State University.
American Rescue Plan Update
ARPA, otherwise known as the American Rescue Plan Act, was signed by President Biden on March 11, 2021. ARPA is somewhat like a sequel to last year's CARES Act but with an emphasis on negative economic impacts from COVID-19, permitting more flexibility for local governments. Some local governments in Florida have allotted a portion of what they received towards helping their local nonprofit organizations, and we are excited the City of Ocala has graciously approved 10% of their first-year allocation of the federal funds toward eligible nonprofits within city limits. The City Council unanimously understand the concerns of both secular charities and faith-based ministries whose struggles have deepened through the continuation of the pandemic and its effects.
The Marion County Board of County Commissioners will determine in December their allocations for ARPA dollars, possibly including nonprofits outside Ocala city limits. While the U.S. Treasury guidelines do not suggest priorities on the use of the funds, nonprofit relief from the negative economic impact of COVID-19 falls within the guidelines. We look forward to keeping you informed.
We believe philanthropic giving builds a strong foundation for a community. As such, we created the Pillar Society as a way for givers to support the work the Community Foundation does every day.
Members of The Pillar Society will lead by example and be part of the solutions needed, while the Foundation serves as the guide connecting passions to purpose.
Here's what we've accomplished at the Community Foundation in the last 12 months:
Securing more than $11 million in nonprofit grant funding. We specifically worked with nonprofits to apply for CARES Act grants, the Paycheck Protection Program and other granting opportunities.
Raising $850,000 for nonprofits through the 2020 and 2021 Give4Marion events.
Partnering with the Edyth Bush Institute for Philanthropy & Nonprofit Leadership at Rollins College to provide educational and professional development resources for hundreds of local nonprofit leaders.
And we need you to take this vision to levels we have never seen before.
Our vision continues to CREATE a philanthropic community where giving back comes naturally, CONNECT leadership and resources to protect and propel our community, and CAPITALIZE on funding causes that are important to our community. Let us know if you'd like more information on the Pillar Society.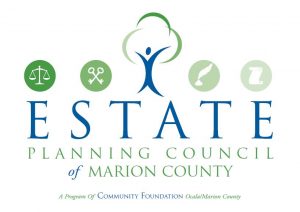 The Estate Planning Council of Marion County plans to hold its inaugural Estate Planning Fall Summit at Golden Ocala Golf & Equestrian Club on November 5th.
To learn more about the upcoming EPCMC summit and to register, click here.
Interested in learning more about the EPCMC? Click here.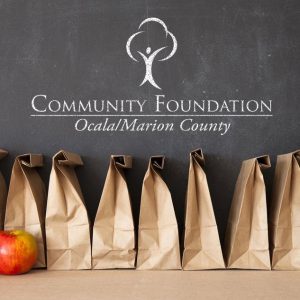 The Nonprofit Resource Center held Brown Bag Basics on Friday, October 15th. These luncheons offer takeaways on various subjects and are recorded. October's session was on "Cybersecurity" presented by Mandy Reed from Renasant Bank. Stay tuned for information about future Brown Bag Basics.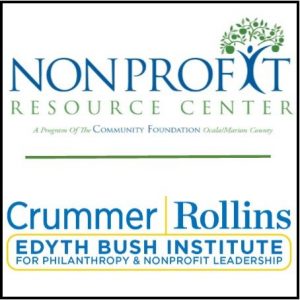 Our partnership with Rollins College and The Edyth Bush Institute for Nonprofit Leadership continues with the Nonprofit Academic Series on Wednesday, October 27, 2021 presenting "Strategies to Maximize Your Year End Appeal." Register here.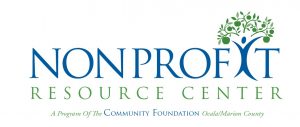 The NonProfit Business Council will hold its upcoming meeting on Tuesday, October 19th at 8:30 a.m. in the Ocala Police Department Community Room, 402 S. Pine Ave, Ocala. This month's topic will be on recapping Give4Marion and planning for next year.
Click here to register. To learn more about the NPBC, click here.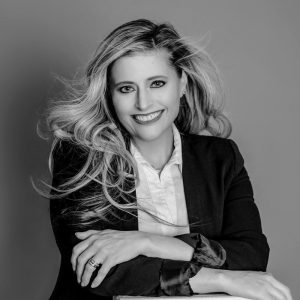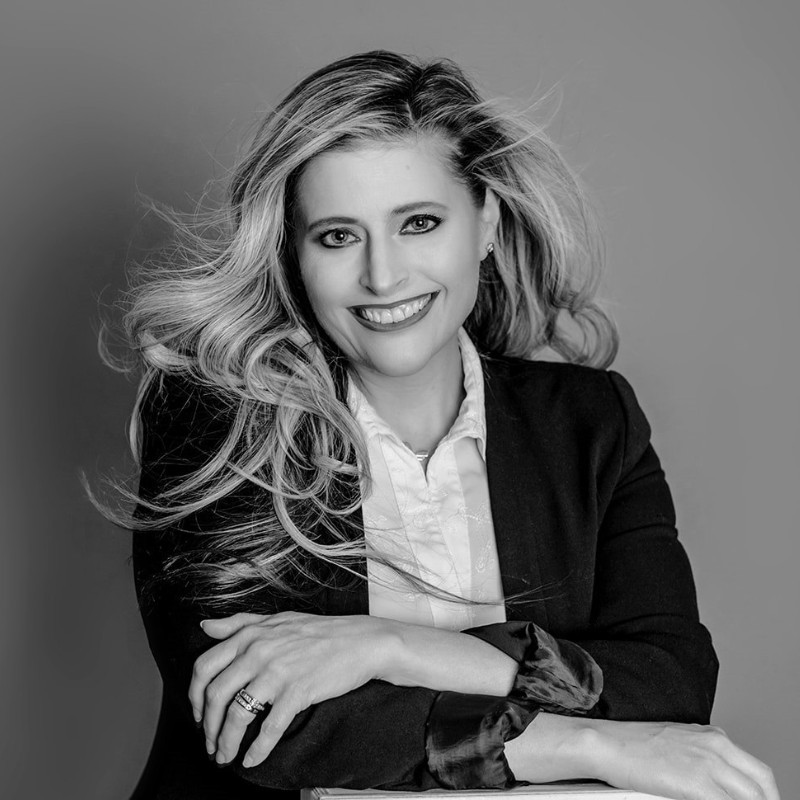 COX Communications' Devon Chestnut, APR, CPRC, is offering free video training sessions at the Nonprofit Resource Center.
Nonprofits will be taught how to use our in-house Cox Video Suite, which comes complete with lighting, backdrops, microphones and more, to produce their own videos. Availability is limited to six nonprofits per session with new sessions available each month, including this October 28th. Email us to learn how to get scheduled soon.
Other services offered at the Nonprofit Resource Center include financial counseling, grant services, strategic planning, professional development seminars, and a new service mentioned below. To learn more about each of these services, click here
Communications, PR, and Marketing Services from the FPRA
The Community Foundation for Ocala/Marion County and the FPRA Ocala Chapter will provide Communications, PR, and Marketing Counseling to nonprofit organizations in need of support. Contact us to schedule an appointment. For more information, contact us with questions.
Check out our Events Calendar! It's where we post all your upcoming events.
Planning on hosting a webinar, a social, volunteer orientation, fundraiser, or something else? Let the Community Foundation know in advance and we'll add it to the calendar.
Just send us an email with your event's date and a short description.