Ocala, FL (October 29, 2020) —
The Community Foundation of Ocala / Marion County and Nonprofit Resource Center are happy to announce the growth of our staff! Meet the new team members who have joined us in 2020.
Richard Lovelace
Richard works as a Grant Research Assistant. Prior to working for the Community Foundation, Rich spent over three decades working in public service. Starting as a volunteer firefighter, Rich would later work as an EMT and a civil engineer with the Department of Transportation in New York state. He graduated with an associate degree in Drafting from Genesee Community College, and a bachelor's degree in Anthropology, with a minor in Theatre, from SUNY Brockport.
Terri Haverly
Terri, the new Grant Services Associate, hails from South Dakota, where she had a long career in public service and economic development. Prior to joining the Community Foundation, she worked as the Vice President of the Rapid City Economic Development Partnership and was elected to the South Dakota legislature as a state senator in 2014. Terri is an Air Force veteran, where she served 14 years at Ellsworth Air Force Base as a supervisor of accounting and finance.
Lisa Patterson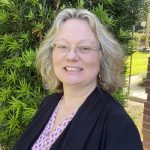 Lisa is the new Account Manager for the Community Foundation. Born and raised in Marion County, she received her A.S. degree from the Central Florida Community College (now College of Central Florida). Throughout her employment history, Lisa has more than 20 years of accounting experience.
Chris D'Avanzo
The Foundation's Communications Specialist, Chris graduated from the IB Program at Vanguard High School before earning a bachelor's degree from Florida State University with a double-major in Creative Writing and Political Science. His playwriting has received awards from the Florida Student Thespian Society, and he is an avid fan of sports and entertainment.
To see the profiles of all Community Foundation staff, visit here.
The Community Foundation for Ocala Marion County is Building a Stronger Community…One Passion at a Time. Programs include the NonProfit Business Council, the Estate Planning Council, and the new Nonprofit Resource Center in partnership with Marion County, the City of Ocala, the Marion County Hospital District and Advent Health.
###