As the Grants Research Association for the Community Foundation, Brock assists area nonprofits in the various stages of the grant process, including researching opportunities and generating proposal documents.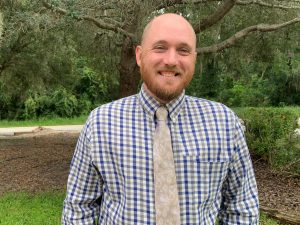 Born in Gainesville, Florida, Jesse was raised in Athens, Georgia. He holds a bachelor's in history from Young Harris College, a master's degree in history from the University of North Alabama, a master's degree in American studies from the University of Alabama, and a doctorate degree in educational leadership from Tarleton State University. Jesse specializes in grant research, writing, and development. For the past few years, he served as the Research Fellow for Tarleton State University, where he aided faculty and administration regarding grant services and helped teach a doctoral level course on scholarly writing.
In addition to the higher education sector, Jesse has successfully overseen grant submission and facilitation in the non-profit sector, particularly during his time as the Assistant Director for the Tuscaloosa County Preservation Society in Tuscaloosa, Alabama.
Making the move from central Texas to Ocala in the summer of 2021, Jesse and his wife are excited to raise their son Oliver in Marion County.